The Edge Arts Listings: February 2019
Arts and creativity hub based at the University of Bath. The Edge is home to the Andrew Brownsword Gallery, theatres, music and art studios, plus a lively café/bar – a destination that promotes the art in science and the science in art – open to all
The Edge, University of Bath, Claverton Down, Bath, BA2 7AY
Exhibition: EMMA HART: BANGER
Preview: Fri 15 Feb 2019
Sat 16 Feb - Sat 27 Apr 2019
Tues-Sat, 11am-5pm (Late night Wednesdays until 7pm)
Andrew Brownsword Gallery, The Edge
Free Admission
www.edgearts.org
Emma Hart makes art about the routines and spaces of everyday life. Banger is a new body of ceramic works that continues her investigation into relationships and domestic life, in this case the car as the interior space where so many family dynamics are played out. Beyond the windscreen there are urban scenes clamouring with signs and instructions and rural horizons with endless of possible routes to navigate. In Banger the relentless velocity of decision making is as inescapable as the changing weather. Banger was commissioned by The Fruitmarket Gallery, Edinburgh.
FAMILY TAKEOVER
Free drop in workshops
Sat 16 Feb & Sat 2 Mar 2019
, 11am-2pm / Resource Room, The Edge / FREE
www.edgearts.org
A series of fun, free and informal creative activities exploring Emma Hart's exhibition in our gallery. Perfect for 4-12 year olds, stay for ten minutes or an hour and get stuck in, drawing and making with artist educator Victoria Willmott.
The Edge: Art, Research, Adventure
The Edge is an arts and creativity hub informed by the context of the University of Bath. We encourage and nurture arts/research collaborations, providing a place where artists, audiences, researchers and academics can find new perspectives and fertile ground to showcase new thinking and ideas. Here, mechanical engineers meet sculptors interested in moving structures, architects work with artists to shed new light on the nature of play and how architecture influences it, artists bring together inventing and engineering expertise to create artworks of scientific complexity.
Our year-round programme of exhibitions, performing arts presentations, talks, arts classes, family and community events, provide experiences of educational, emotional and intellectual stimulus, all based around our ethos of bringing together arts, research and adventure. Our focus is on participatory programmes and our belief is that everyone can be creative and contribute.
The state-of-the-art Edge building offers galleries, theatres, music and art studios, plus a lively café/bar – a destination that promotes the art in science and the science in art.
The Edge CAFÉ
Settle down with a drink, a salad, sandwich or a slice of cake in this modern new venue set in the heart of our impressive new arts facility. Indulge your senses with snacks and light bites at CAFE before taking in stimulating art, classes, courses and entertainment.
Café opening hours*
Monday – Friday: 8.30am –5pm
Saturday: 10am-3pm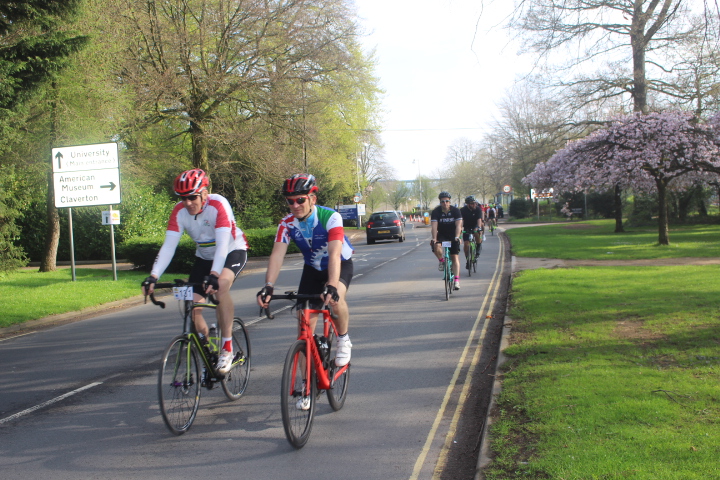 Team Bath Sportive
📅
Sunday 12 May 2019
University Of Bath
Following the success of the inaugural event in 2018, the Team Bath Sportive is returning for a second year – and it is open to even more cyclists.
Starting and finishing at the University of Bath Sports Training Village, the 2019 Sportive – the cycling equivalent of running a marathon – will once again see cyclists head to Glastonbury and back via an organised 102km route or take on a shorter 50km route through the scenic Bath & North East Somerset countryside.
It is a non-competitive event, with the focus being on participation in a supportive atmosphere, and is being run in conjunction with British Cycling. This year's event has a greater family focus too as, for the first time, youngsters between the ages of 12 and 17 inclusive can take part*.
Participants will receive a free T-Shirt, a £1 voucher to use in the STV's Sports Café on the day and access to free massage, as well as free event car parking and changing facilities.
A tea and coffee van will also be available at the start and finish, along with three food stations along the 102km course. Mechanical and first aid support will also be provided, and there will be start, finish and on-route photography.
teambath.com