Gala Organ Concert with Peter King
📅
Saturday 5 October 2019
St Mary's Church, Bath BA2 4EB
We are delighted to welcome Dr Peter King (Organist Emeritus, Bath Abbey) to perform this gala concert at St Mary's in aid of our organ restoration fund.
The audience will be able to see close views of Dr King on a big screen, playing a programme that includes works by Karg-Elert, Saint-Saens, Guilmant and Mendelssohn.
Tickets £10 on the door, or in advance from St Mary's Parish Office
https://bathwickparishes.org/stmarys/
Tel: 01225 447450
Email: office@bathwickparishes.org.uk
St Mary's is rightly proud of its 1878 Father Willis organ and it is the only example of the work of this famous organ builder in the city of Bath. It has given sterling service over the years but now needs major restoration work in order to preserve it for future generations to enjoy. We look forward to welcoming you to Bathwick for this fundraising event.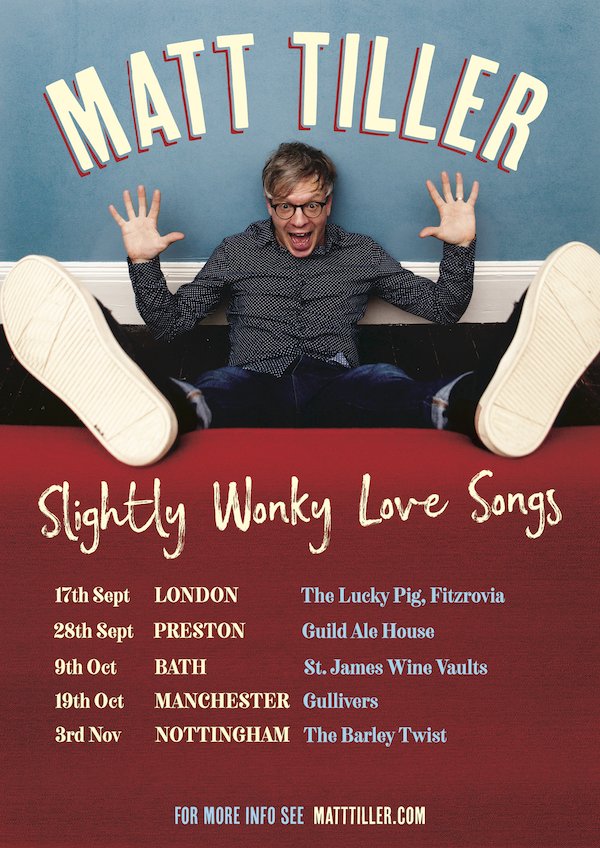 Matt Tiller - Slightly Wonky Love Songs
📅
Wednesday 9 October 2019
St. James Wine Vaults
Matt Tiller - Slightly Wonky Love Songs Tour (with Gavin Osborn & Simon Allen)
Matt Tiller doesn't love anyone to the moon and back as he has no lunar travel plans. But he does promise offbeat, heartfelt love songs, ridiculous tunes, jokes and general nonsense. Matt is 'Sharp and astutely observed' according to the astute British Comedy Guide, 'Hilarious' the New Statesman, while BBC 6Music's Tom Robinson said of We're In This Together, 'This track about kidnapping a senior politician is fun.' He couldn't play it due to BBC impartiality rules, though.
www.matttiller.com
🎟️
Tickets
He's joined by the brilliant Gavin Osborn…
Gavin Osborn is a humourous but heart-felt singer-songwriter, originally from Bedford but has resided in the Bristol/Bath area for several years. He's performed shows with comedian Daniel Kitson and supported Belle & Sebastian."Gavin Osborn writes minutely detailed, bittersweet story-songs on an acoustic guitar and sings them with a comic timing usually absent from the works of his anti-folk contemporaries. Funny and touching, Osborn walks a similar tightrope to Loudon Wainwright III" - Stewart Lee (comedian), The Sunday Times.
facebook.com/gavosborn
They are joined by the incredible singer songwriter, Simon Allen. Simon is lead singer with Westcountry band Littlemen, a writer of beautiful, poignant tunes backed up with an incredible voice.
https://www.littlemensounds.com/about
Chantement Cordiale with Musicke in the Ayre
📅
Friday 11 October 2019
Museum Of Bath Architecture
In the second of their short Autumn season in the Countess of Huntingdon's Chapel at the Museum of Bath Architecture, Musicke in the Ayre explore the lute song scene on either side of the English channel during the 16/17th centuries. Familiar English ayres by well-known composers like Dowland and Campion mingle with lesser-known French composers whose Airs de cour provide strong competition.
Derbyshire-based soprano Carmel Edwards (last seen here in July last year) return to perform again with lutenist/leader Din Ghani in this lovely venue.
Doors open 6.00pm with a welcome complimentary drink, performance is between 6.30 - 7.30pm.
Tickets £10 at the door, or £9 online from
Tickets
The Music of Cream's 50th Anniversary UK Tour
📅
13 October 2019
Komedia
Kofi Baker, Malcolm Bruce & Will Johns bring the legacy back to life, in an immersive multi-media experience show of electrifying live music, interplayed with archive footage of the original band, unseen interviews and personal anecdotes from the trio of growing up with the legends who were CREAM
Ginger Baker. Jack Bruce. Eric Clapton. Cream was a chemical explosion like no other, the blueprint for every supergroup to follow and the heavy blues precursor to Hendrix, Zeppelin and so much more. Fifty years since their earth-shaking debut album, the bloodlines of that hallowed trilogy come together to pay tribute to Cream's legendary four-album reign over the psychedelic frontier of the late 1960s. Kofi Baker (son of Ginger) and Malcolm Bruce (son of Jack) unite with Will Johns (Eric's nephew by Marriage and son of Zeppelin/ Stones/ Hendrix engineer Andy) to unleash the sound that roused a generation. Feel the fire and the freedom of "Spoonful", "Strange Brew", "Sunshine of Your Love", "White Room", "Crossroads" and "Badge" —performed by the next generation of Cream, master musicians in their own right whose lives have been steeped in the Cream spirit and legacy.
The Music of Cream is a once-In-a-lifetime concert salute to the most innovative and explosive supergroup of all time, in the hands of those that knew them best. In a new multimedia experience, watch with awe as Kofi and Malcolm interplay live with their fathers on the big screen; as classic moments in rock history with Clapton are brought back to life by his nephew Will Johns. The band will share personal insights and stories, complete with rare, unseen family footage and photographs. This is a truly immersive experience for Cream lovers. Intimate & unique performed by close family members of the original band, who are born and bred into skilled musicianship.
Willy Porter Plays Chapel Arts Bath
📅
Thursday 24 October 2019
Chapel Arts Bath
American musician Willy Porter has been turning first time listeners into die-hard fans for more than two decades. Willy blurs the line between indie-folk and rock with his searing signature finger-picking guitar sound, absorbing lyrics, and playful, high-energy live performance style. He has shared world stages with music icons Jeff Beck, Tori Amos, and Paul Simon, carving out a successful solo career as an artist who makes music that resonates long after the last guitar chord fades. Equally accomplished as a guitarist, singer, and songwriter, his songs weave a universal perspective about the questions, struggles, and triumphs of human existence.
His live shows are guitar-driven events--equal parts grit, soul, and muscle--that are electrifying, dynamic, and wholly original in the way that Willy's voice blends and fuses with his galvanizing fret work. Whether in the studio or on stage, Willy Porter gifts listeners with an unforgettable ride, embodying the very best of what live music has to offer. www.willyporter.com
Show 8pm
Tickets
£12 adv.
♫
map
•
chapelarts.org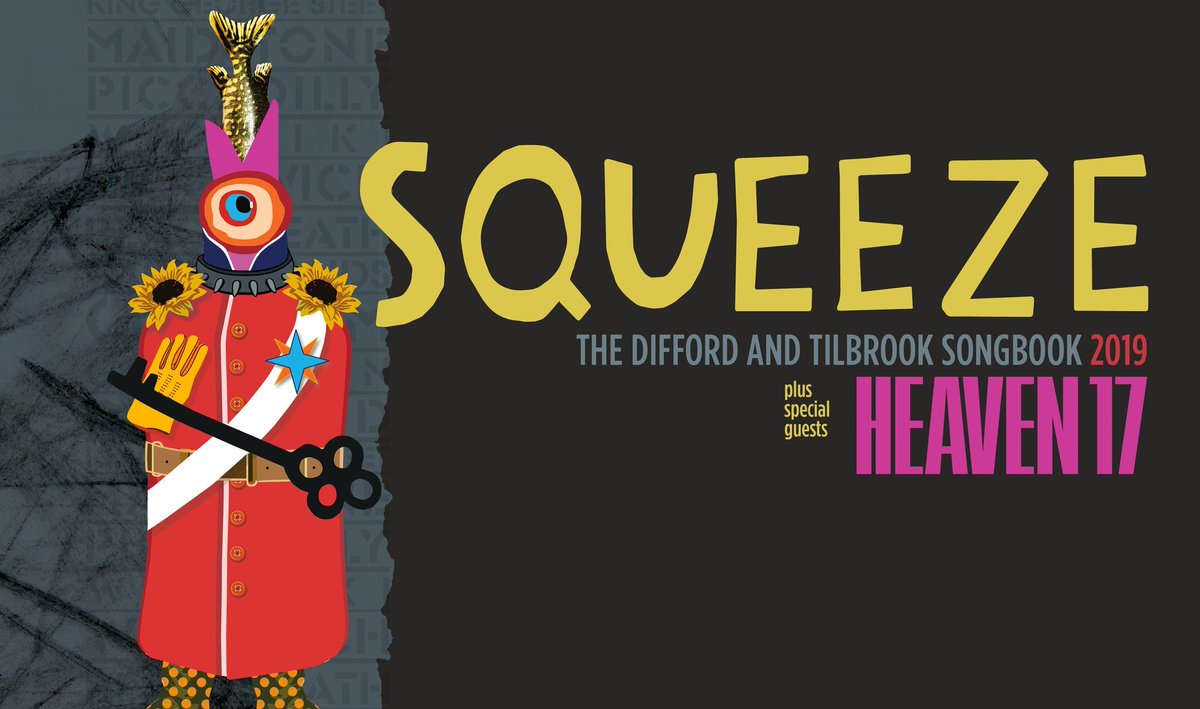 The Difford And Tilbrook Songbook Tour
📅
Wednesday 30 October 2019
Venue: Bath Forum
'The Difford And Tilbrook Songbook Tour' will see Squeeze playing their extensive list of hits, some rare gems and songs from their solo careers. Squeeze have announced that the tour will seek to raise awareness, money and food for the trussell trust, one of the UKs leading networks of food banks. The trust aims to end hunger and poverty in the UK as more people than ever before are having to use food banks just to get by.
🎟️ Tickets
bathforum.co.uk
Cut Throat Francis Live Music
📅
31 October 2019
The Pig And Fiddle
Cut Throat Francis sing songs about failing to be successful, responsible grown-ups on folk instruments; sometimes in swing rhythms, and mostly with upbeat Eastern European flavours. So we're a Bristol based Balkan swing band… kind of.
But they're not folk songs in the traditional sense. We like loud and sweaty shows, even if every now and then we do slow, sad songs about ghosts or feeling sleepy.
This means we play anywhere and everywhere, from house parties to festival stages. We want to sing, dance and get drunk with you, so let's have it! Let's meet up in dingy cellars and soggy fields, let's get drenched in beer and get our knees up off the ground, because what else are you doing with your evenings anyway?
Bath Folk Club presents Nick Wyke & Becki Driscoll
📅
Friday 1 November 2019
The Assembly Inn, 17 Alfred St, Bath BA1 2QU
Nick Wyke & Becki Driscoll are highly respected fiddle players and composers firmly rooted in North Devon. Their unique sound is a joyful collision of English traditional music and contemporary bowed strings. Their music blends melodic, emotive violin and viola with driving fiddle chords and power vocals that will take you on a journey from the dark side of English ballad to toe-tapping tunes and songs.
"Folk music at its best"
– The Living Tradition
"Bursting with vitality"
– Musicians Union Magazine
Time: doors 8pm; start 8:15pm
Price £8 advance, £10 on the door
Tickets available online from
Tickets
There are a limited number of floor spots available for audience members who would like to perform. To do so, arrive early and sign up at the door.
The Power Of Compassion Concert With The TASHI LHUNPO MONKS
📅
Thursday 14 November 2019
The Widcombe Social Club Widcombe Hill, BA2 6AA
7pm – 9:30pm Price £15 in advance £20 on the door
The Widcombe Social Club Widcombe Hill, Bath BA2 6AA
www.widcombesocialclub.co.uk
for more info contact ormi_khoomii@yahoo.com
info@widcombesocialclub.co.uk Tel: 01225 460 456
'...a psychedelic whirl of chanting, dancing, drums, cymbals...' (The Times)
Eight Tibetan monks bring a moving and inspirational insight into the world of sacred music and monastic dance from the contemplative, mesmerising chant of Buddhist texts and mantras to the majestic brocade-costumed masked dances. Ancient musical instruments from the Tibetan Tantric tradition are used: the conch-shell trumpet, horns made from human leg bones, skull-drums and meditation bells, while the powerful sound of the majestic dungchen or long horns is accompanied by cymbals, bells and drums, evoking the atmosphere of sacred Tibet and offering an opportunity to experience a unique endangered culture
'…the living embodiment of a thousand years of philosophy and knowledge... hundreds of years of ancient wisdom.' (***** British Theatre Guide)
www.tashi-lhunpo.org.uk
Tickets
Kate Rusby
📅
Wednesday 11 December 2019
Venue: The Forum Bath
Forever proud to call herself folk singer, Kate Rusby's beautiful, expressive vocals never fail to connect the emotional heart of a song to that of her audience. Famously down to earth, for over twenty years Kate's engaging personality and sharp Yorkshire wit have further endeared her to concert goers everywhere.
And it is in her special Christmas concerts that all these elements combine to exquisite effect.
Indeed, after fifteen years of enchanting audiences up and down the land, Kate's Christmas tour –so wondrously captured on her 2013 Live At Christmas concert DVD–has, for many, become as much a part of the festivities as Christmas pudding itself! Warm and inviting, spicy and sparkly she and her marvellous band – joined as ever by a sublime brass quintet – embody the sounds and joyous spirit of the best Christmases ever!
Tickets