Bath Bachfest
Thursday 22 - Saturday 24 February 2018
Assembly Rooms, Guildhall, Bath Abbey
What better to brighten to dark winter days than the glorious combination of Bach and Bath? The annual Bath Bachfest, now in its seventh year, is a delightful fixture in the Georgian city's annual calendar, celebrating the music of JS Bach and his contemporaries. This year, this 3-day, 5-concert mini fest will place Bach in an international context , alongside music from great European masters of the Baroque period such as Vivaldi, Handel, Corelli and Telemann.
The evening concerts feature the period- instrument ensemble Florilegium, the renowned Academy of Ancient Music and the The English Concert, conducted by Harry Bicket with the Erebus Ensemble and a starry cast of soloists, performing Bach's great Mass in B minor in Bath Abbey, Harpsichordist Mahan Esfahani and recorder - player Michala Petri are giving a short lunchtime concert in The Guildhall and Rachel Podger's Brecon Baroque offers a Saturday morning treat with a programme of Vivaldi's music ending with his popular work, the cycle of the four violin concertos The Four Seasons.
For more information please visit the festival website: www.bathbachfest.org.uk
For tickets please contact Bath Bach Office on 01225 463362. Bath Box Office , Bath Visitor Information Centre, Bridgwater House, 2 Terrace Walk, Bath BA1 1LN
Bath Symphony Orchestra Concert
Saturday 3 March 2018
Roper Theatre, Hayesfield School, Bath
Celebrating 70 years with Bath Symphony Orchestra
Saturday 3rd March, 7.30 pm
Roper Theatre, Hayesfield School, Bath BA2 3LA
Tickets: £15, Students & under-18s: £7
Programme:
Sibelius - En Saga
Brahms - Variations on a Theme by Haydn
Nielsen - Symphony No. 2 'The Four Temperaments'
Bath Symphony Orchestra invite you to join us for the second concert of our 70th anniversary season, to be held on Saturday 3 March at The Roper Theatre, Hayesfield School.
Our programme explores the expression of contrasting moods. En Saga, by Sibelius, depicts feelings inspired by the Finnish landscape, whilst Brahms evokes a wide variety of moods and colours in his well known Variations on the St Anthony Chorale tune. In his Second Symphony, 'The Four Temperaments', Danish composer Nielsen vividly portrays each of the four humours of Greco-Roman medicine. The symphony was inspired by a comical picture the composer saw in a country pub and it quickly became one of Nielsen's best-loved orchestral works.
Some tickets should be available on the door, but audience members are advised to purchase tickets in advance to be certain of enjoying this performance by one of Bath's leading orchestras.
Bath Box Office: 01225 463362 or
bathboxoffice.org.uk
Pub Quiz at Cross Guns Avoncliff
Wednesday 7 March 2018
Cross Guns Avoncliff
8pm
We are taking part in the world's biggest pub quiz!
£2 per person. Great prizes and all proceeds to charity - National Autism Association and Dogs Trust.
The winning team will get a £40 meal voucher to be used at any of our three sites.
We will also have a raffle - First Prize is wine and local cheese, second prize a pack of three ciders from Honeys Midford and third prize is a cake donated by Freshford Cake Company.
Get your team together and book your team. Be quick!
Call 01225 862335 or pop in.
The Jar Family
Saturday 17 March 2018
Venue: Caryford Community Hall, Castle Cary BA7 7JJ
As promised, The Jar Family are returning to Caryford Hall. The collective of five singer song writers who create a truly amazing live show received a rapturous ovation when last here. Indie Folk-Rock at its finest. Advance tickets £15 from
Tickets
www.caryfordhall.co.uk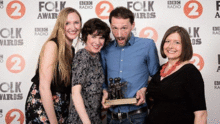 The Furrow Collective
Thursday 22 March 2018
Widcombe Social Club, Bath
The Furrow Collective is an award-winning and critically acclaimed English/Scottish band consisting of four distinctive and talented performers: Lucy Farrell (viola, voice & saw), Rachel Newton (harp, fiddle, voice), Emily Portman (banjo, concertina, voice) and Alasdair Roberts (guitars, voice).
Formed in 2013, drawn together by a shared love of traditional song and balladry of England, Scotland and beyond and an open, intuitive approach to collaboration, the Furrow Collective were awarded the accolade of 'Best Band' at the 2017 BBC Radio Two Folk Awards, hot on the heels of the release of their second album, Wild Hog (Hudson Records).
Each band member leads a song, moving with ease from jaunty stories of ailing horses, to poignant laments and sparsely adorned supernatural ballads. Touring extensively throughout the UK and Europe the Collective consistently delight audiences with their unique, beguiling approach to traditional song.
'A mouthwatering collaboration' MOJO magazine
'One of the finest collaborative albums of the past few years' Folk Radio UK
'A quietly triumphant set' The Guardian
'A quietly thrilling approach to traditional song' R2 Magazine
Best Traditional Track nomination 2015 and 2016 - BBC Radio Two Folk Awards
Best Band Award - 2017 BBC Radio Two Folk Awards
Tickets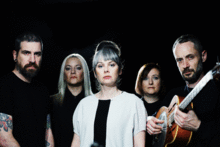 Stick In The Wheel
Saturday 24 March 2018
Widcombe Social Club, Bath
Making a big impression in an ever-expanding scene, the five-piece band Stick In The Wheel play and sing songs that are both immediately modern and part of an ageless tradition.
Their culturally and politically switched-on storytelling and fierce, witty East Londoner delivery leave no doubt that Stick In The Wheel know exactly how to connect folk music with life today.
Think: English Folk music meets the Artful Dodger, Tracey Emin and Jeremy Hardy in equal measure!
Expect: compulsively engaging music, attention grabbing ideas, cheeky, sideways humour and entertaining fun.
"A great live band…acoustic with attitude" The Guardian
"Taking the folk scene by storm" BBC Radio Scotland
"A shot in the arm for contemporary folk music" The Independent
"Rich in attitude and uncompromising intent" MOJO
Stick In The Wheel's debut album "From Here"(2015) was fRoots magazine Album of the Year and a MOJO Folk Album of the Year, Their second album 'Follow Me True' - to be be released with this early 2018 tour - focusses on the world around us, the past repeating itself, ghosts and death, land and place, thieves and beggars - in other words, continuing to question the notion of what folk music is, and what it means, right here, right now..
Tickets
Beer Fest At Cross Guns Avoncliff
27 March - 2 April 2018
Cross Guns Avoncliff
First BEER FEST of 2018 at the Cross Guns in Avoncliff.
Live Music, BBQs and real ales including award winning champion beers. There will be feasts, slow cooked outside, using open fire methods by Barabiku Outdoor on Friday 30th and an Easter Sunday special on the 1st. www.crossgunsavoncliff.com
Pop-Up Wildlife Party
Saturday 2 June 2018
Green Park Station
Join Festival of Nature for the first ever Pop Up Wildlife Party! Come along for music, fun, food and drink as we explore the amazing Wildlife in and around Bath!
Visit www.festivalofnature.org.uk for more information