The Power Of Compassion Concert With The TASHI LHUNPO MONKS
📅
Thursday 14 November 2019
The Widcombe Social Club Widcombe Hill, BA2 6AA
7pm – 9:30pm Price £15 in advance £20 on the door
The Widcombe Social Club Widcombe Hill, Bath BA2 6AA
www.widcombesocialclub.co.uk
for more info contact ormi_khoomii@yahoo.com
info@widcombesocialclub.co.uk Tel: 01225 460 456
'...a psychedelic whirl of chanting, dancing, drums, cymbals...' (The Times)
Eight Tibetan monks bring a moving and inspirational insight into the world of sacred music and monastic dance from the contemplative, mesmerising chant of Buddhist texts and mantras to the majestic brocade-costumed masked dances. Ancient musical instruments from the Tibetan Tantric tradition are used: the conch-shell trumpet, horns made from human leg bones, skull-drums and meditation bells, while the powerful sound of the majestic dungchen or long horns is accompanied by cymbals, bells and drums, evoking the atmosphere of sacred Tibet and offering an opportunity to experience a unique endangered culture
'…the living embodiment of a thousand years of philosophy and knowledge... hundreds of years of ancient wisdom.' (***** British Theatre Guide)
www.tashi-lhunpo.org.uk
Tickets
Kate Rusby
📅
Wednesday 11 December 2019
Venue: The Forum Bath
Forever proud to call herself folk singer, Kate Rusby's beautiful, expressive vocals never fail to connect the emotional heart of a song to that of her audience. Famously down to earth, for over twenty years Kate's engaging personality and sharp Yorkshire wit have further endeared her to concert goers everywhere.
And it is in her special Christmas concerts that all these elements combine to exquisite effect.
Indeed, after fifteen years of enchanting audiences up and down the land, Kate's Christmas tour –so wondrously captured on her 2013 Live At Christmas concert DVD–has, for many, become as much a part of the festivities as Christmas pudding itself! Warm and inviting, spicy and sparkly she and her marvellous band – joined as ever by a sublime brass quintet – embody the sounds and joyous spirit of the best Christmases ever!
Tickets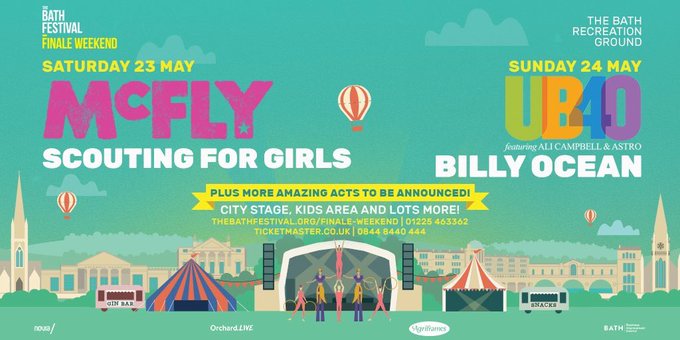 Bath Festival Finale Weekend
📅
Saturday 23 & Sunday 24 May 2020
Bath Recreation Ground
Two-day family-friendly festival in the heart of historic Bath. Day tickets available for either Sat 23 May, with headliners
McFly
, supported by
Scouting for Girls
, or for Sun 24 May headline act
UB40
featuring Ali Campbell and Astro, with support act
Billy Ocean
. In addition there'll be all-day live music,a Kids Zone, food and drink stalls, bars and extra entertainment.
This will be the third year that Bath Festivals in partnership with Orchard Live has put on this event. Tickets are £50 day adult, £25 under 16s day junior. Weekend adult tickets £90, junior £50. Under fives attend free but must book an under 5s ticket. The site is within ten minutes walking distance of Bath Spa station.
🎟️
Tickets