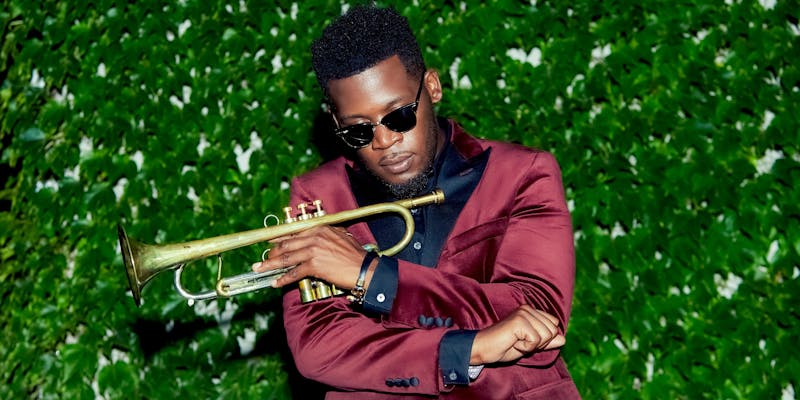 Keyon Harrold Live
📅
Thursday 5 July 2018
Walcot House
July 5th 2018 sees the inspirationally talented, Grammy winning trumpeter Keyon Harrold travel to the UK to play an exclusive live show at Walcot House, in support of his recent album The Mugician.
A blend of 'musician' and 'magician', the album's title is a nod to the nickname that the critically acclaimed actor Don Cheadle bestowed upon the young virtuoso for his performances in the much-celebrated Miles Davis biopic 'Miles Ahead'.
Sweeping and cinematic, Harrold's music draws on elements of jazz, classical, rock, blues, and hip hop to create something uniquely modern
Keyon Harrold landed his first major gig with multi-platinum recording artist, actor and film producer Common, an experience which he says broadened his musical horizons beyond jazz to include funk, Afrobeat, R&B, and hip hop. Soon after this he became the go-to trumpet player for a whole host of stars including Snoop Dogg, Jay Z, Beyonce, Rihanna and Eminem.
Now audiences in Bath will be able to experience the magic of Keyon Harrold's and his band's performance in a live setting, at one of the country's most stylish music and entertainment venues. His forthcoming live show will be a rare chance to witness a sonic extravaganza from one of the most talented musicians of his generation.
Tickets
Chris Cleverley at Chapel Arts Bath
Friday 13 July 2018
Chris Cleverley has emerged as a writer, performer and character who defies comparison, delivering a unique re-sculpting of 21st Century folk music. A true enigma of the UK Folk Scene; at times mysterious and gentle, at others candid and revealing. Since winning Bristol Folk Festival's 2014 'Isambard Folk Award', Chris' national presence has grown exponentially, with his critically acclaimed debut album 'Apparitions' entering The Telegraph's top 70 folk albums of 2015. Additionally he forms one tenth of a high profile songwriting project, The Company of Players, alongside eight rising stars of the national folk scene.
From April 2018 Chris will be taking his dynamic solo live sound on tour of the UK's Folk Clubs, Arts Centres and Concert Venues. This kickstarts the first of two main touring periods, scheduled for Spring and Autumn, as well as multiple summer festival appearances. Audiences can expect to hear exclusive first airings of material from his forthcoming album, as well as his famous contemporary arrangements of traditional folk song.
www.chriscleverley.com
Tickets £12 door, £10 adv. Tel 01225 461700
www.chapelarts.org
Gordie MacKeeman
📅
30 July 2018
Widcombe Social Club, Bath
Gordie MacKeeman - ace fiddle player (nicknamed 'crazy legs' for his frenetic loose-limbed step-dancing) just loves to perform. Combining exuberance and onstage dynamism with the stellar musicianship of his multi-instrumentalist comrades His Rhythm Boys, MacKeeman is an unstoppable roots music force.
Regularly delighting audiences over here at major festivals - e.g. Glastonbury, WOMAD, Celtic Connections, Hebridean Celtic, Cambridge - Gordie MacKeeman and His Rhythm Boys, from Canada's East coast Prince Edward Island, tour the world from Denmark to Australia - and now the international circuit includes All Of The Above at the Widcombe Social.
Gordie MacKeeman (fiddle, acoustic guitar, feet percussion, vocals), and His Rhythm Boys - Peter Cann (guitars, banjo, vocals), Thomas Webb (guitars, bass, banjo, steel guitar, vocals), and Jason Burbine (bass, percussion, guitar, vocals) - simply create a high-powered musical whirlwind. Their wild, eclectic sound draws on bluegrass, old time country, folk, rockabilly, swing and Celtic music - their live performances are inexhaustible, unstoppable fun, encapsulated by their recent album title: Laugh, Dance & Sing.
Tickets