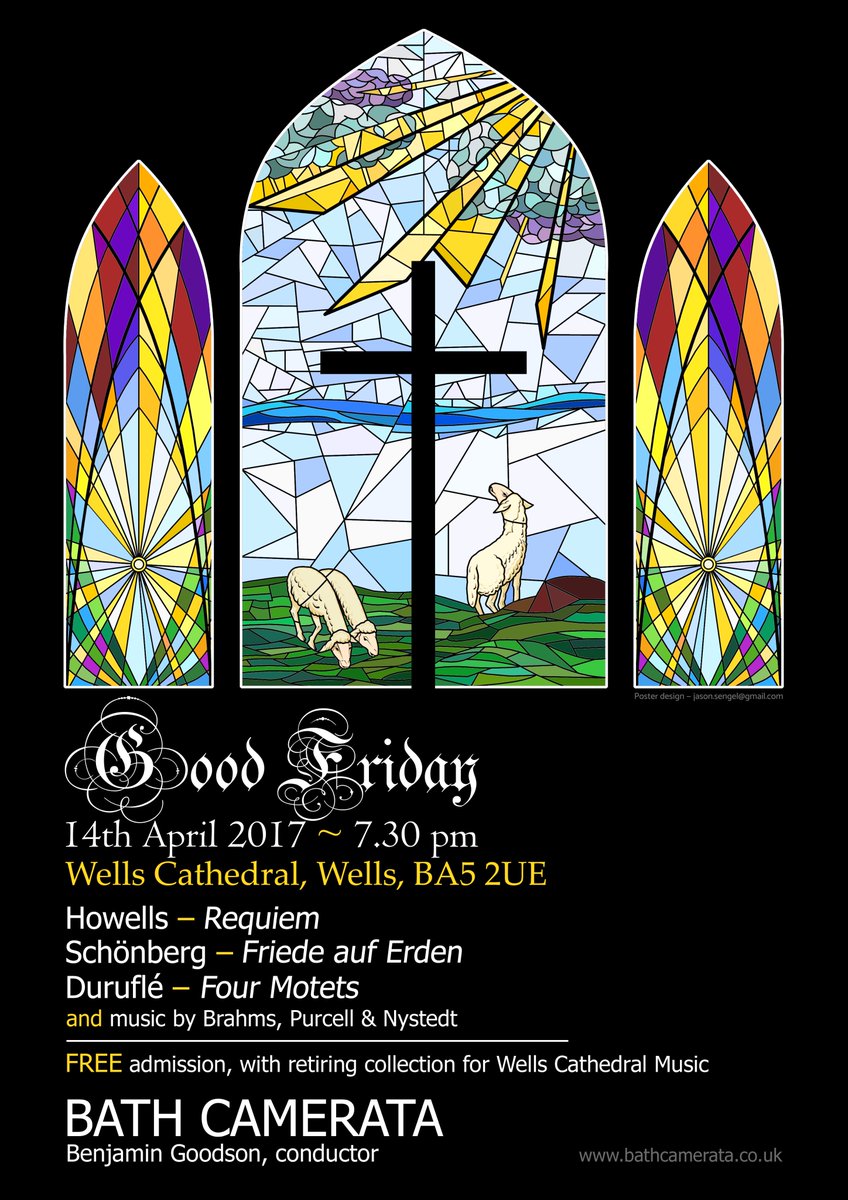 Bath Camerata - Good Friday Concert
Friday 14 April 2017
Venue: Wells Cathedral, Wells, BA5 2UE
Free Admission, retiring collection for Wells Cathedral Music
For many - performers and audience alike - Bath Camerata's annual Good Friday concert in Wells Cathedral is the highlight of their musical calendar. And for many reasons. Firstly the building is magnificent – who cannot be impressed by this golden beauty sat in the heart of the Somerset Levels, with its impressive, intricate West End carvings and 14th Century bracing at the Crossing. Secondly the acoustic is clear and supportive, making singing in it an absolute joy. But also because this concert is part of the Cathedral's devotional weekend for Easter. It is free to attend, with a retiring collection given to the Cathedral to support its musical activities. Bath Camerata is very proud to have raised over £40k of donations for the Cathedral Music Fund over the three decades of its Good Friday concerts.
For this year's Good Friday concert Bath Camerata, conducted by Benjamin Goodson, will be singing Herbert Howells intensely personal Requiem, a work perfect for this most poignant day in the Christian calendar. Alongside this will be Schönberg's virtuosic masterpiece Friede auf Erden (Peace on Earth), Henry Purcell's funeral sentence 'Hear my Prayer O Lord' and four beautiful motets by Maurice Duruflé. Plus there will be music by Brahms and Nystedt.
www.bathcamerata.co.uk
Nicola Benedetti with Bath Philharmonia
Friday 21 April 2017
The Forum, Bath
Shostakovitch Violin Concerto No.1
Prokofiev, Romeo and Juliet (excerpts)
Violin: Nicola Benedetti
Conductor: Jason Thornton
Nicola Benedetti is one of the most sought after violinists of her generation. Her ability to captivate audiences with her innate musicianship and dynamic presence, coupled with her wide appeal as a high profile advocate of classical music, has made her one of the most influential classical artists of today. Nicola will bring Shostakovitch's dark, introspective First Violin Concerto to life with a performance that promises energy, torment and breath-taking passion.
Prokofiev's Romeo and Juliet was premiered in 1938 and is possibly one of the most dramatic and colourful of all his ballets. The Montagues and Capulets has gained notoriety both for its sheer drama and as the theme tune to the television programme, The Apprentice.
King Edward's School, Bath proudly sponsors this concert.
bathphil.co.uk
Afriquoi Gig
Friday 28 April 2017
Where: Caryford Community Hall, Castle Cary BA7 7JJ
Afriquoi fuse traditional African sounds with electronic music drawing on house, soca, hiphop, soul and jungle.
Licensed bar. Off-road parking.
Doors 19.30
Tickets £7 from www.eventbrite.co.uk
More info from
www.actiontrackperformance.co.uk
The Bath Pump Room Trio In Concert
Saturday 29 April 2017
The Space, Keynsham
See and hear the Pump Room Trio play a wide range of music in a concert setting. Full details on
facebook
Kathryn Roberts & Sean Lakeman at Chapel Arts Bath
Saturday 29 April 2017
Chapel Arts Bath BA1 1QR
2016 BBC Radio 2 Folk Award Winners 'Best Duo' Kathryn Roberts and Sean Lakeman head out on tour next month for 12 weeks of shows in support of their new 8 track EP entitled SAVED FOR A RAINY DAY.
"Over the last few years there have been several cover songs we have performed live and never got round to recording. Along with a couple of our own originals that didn't 'fit' with our previous releases. These have often been requested on CD and, subsequently, 'Saved For A Rainy Day' has become a limited edition of rarities."
Now firmly established as one of the folk-scene's busiest and most respected duos, the husband and wife team will hit the road from early March onwards to preview new material that will feature on their next full album.
www.kathrynrobertsandseanlakeman.com
Photo Credit Matt Austin
Show 8pm Tickets £13 adv/£15 door Tel 01225 461700
(above) 360 of the Cafe!
A family run vegetarian cafe, in the heart of Bath. Offering tasty, home-made food and great service in a great setting.
Address: Chapel Arts Centre, Lower Borough Walls, Bath BA1 1QR
map
•
chapelarts.org
An Evening with Jo Burt
Saturday 13 May 2017
Caryford Community Hall, Castle Cary BA7 7JJ
Jo Burt is an English songwriter, storyteller, singer and guitarist possibly best known for his incredible history working with musical legends such as Freddie Mercury, The Troggs and Black Sabbath. His style is based on his background of rock, with a southern flavour influence and a very English Beatles-esque twist. He is an hypnotic performer, drawing in his audience with tales from his 40 year recording and touring past and telling intriguing stories through his songs.
Tickets £12 from www.wegottickets.com
Doors 18:45 for 19:30 performance
Licensed bar and free off-road parking
All proceeds will go to the Hall's Development Fund.
www.caryfordhall.co.uk
Martin Carthy and San Sweeney
Tuesday 23 May 2017
Venue: Masonic Hall At The Old Theatre Royal
Martin Carthy and San Sweeney
23 May, Masonic Hall at the Old Theatre Royal
See Sam Sweeney of the legendary Bellowhead and folk legend Martin Carthy perform together for the very first time.
Tickets
Philharmonia Orchestra
Friday 26th May 2017
The Forum Bath
Brahms Piano Concerto No 1 in D Minor
Beethoven Symphony No 7 in A
Tickets from
www.bathforum.co.uk
Brian Roper Memorial Concert
Friday 30 June 2017
Where: The Forum, Bath
Bath Philharmonia present their second annual concert dedicated to the memory of local philanthropist Brian Roper; a concert that encourages future generations to develop their love of classical music.
Stravinsky's Firebird is based on a Russian folk legend, featuring gorgeous melodies, fierce rhythmic intensity and one of music's most breathtaking finales. Pictures at an Exhibition is probably Mussorgsky's most famous composition. Written to perpetuate the memory of his dear friend, artist and architect Victor Hartman, Mussorgsky musically depicts a set of ten figurative art works.
We will be joined for this concert by Peter Donohoe, who is widely regarded as one of the foremost pianists of his time. He returns to Bath Philharmonia to perform the same concerto that crowned him joint winner of the International Tchaikovsky Competition in 1982.
Bath Bach Choir 70th Anniversary Concert
Saturday 1 July 2017
Bath Abbey
J S Bach Magnificat in D Mozart Great Mass in C minor
For this special concert, exactly 70 years on from its first public performance, Bath Bach Choir will perform two of the greatest works of the choral repertoire. Bach's Magnificat - Mary's song of praise - was composed for Vespers on Christmas Day 1723 in St Thomas's Leipzig. A masterpiece even by Bach's standards, the music is exuberant and gentle by turns, illuminating the text with absolute genius. Its three trumpets lend a regal pomp and celebratory brilliance, and are juxtaposed with some eloquent solo arias reflecting Mary's sense of humility.
Mozart had promised that if he married Constanze Weber he would write a mass for her and her sister to sing. His Great Mass in C minor was composed for a special occasion in Salzburg in 1783, although never finished. Full of Bach-influenced grandeur and colourful Italianate excesses, it calls for a double choir and two virtuosic solo sopranos, whose operatic coloratura arias are a highlight of the piece.
Southern Sinfonia
Conductor Nigel Perrin
Soprano: Verity Wingate Annas Sideris
Counter-tenor: Stephen Harvey
Tenor: Kieran White
Bass: Julien van Mellaerts
Tickets