Traditional Carols in Bath
1 November - 6 December 2017
Venue: New Oriel Hall
The Traditional Carols Project will be 6 two-hour workshops in which you will learn Traditional Christmas Carols in 2-4 part harmony. On the 7th week we will perform the carols in a short informal concert and then sing in some pubs around bath. Everything will be taught by ear so you don't need to be able to read music. There are no auditions and you don't need any prior experience, just a love for singing and some Christmas cheer!
The Singing of Traditional Carols dates back to the seventeenth Century when church choirs would earn some money by singing at people's houses. It is characterised by simple, robust harmonies and catchy tunes. The tradition still survives in the area around Sheffield, and in Cornwall, Exmoor and Somerset.
Matt Norman has been running singing workshops and choirs for over a decade. He specialises in arranging and teaching traditional English songs. His approach is laid back and inclusive, working with singers of all abilities. He has a particular interest in
English traditional harmony singing.
Sacre et Profane, with Musicke in the Ayre
Friday 10 November 2017
Museum of Bath Architecture
Sacred and secular works for one and two voices with continuo from the court of the Sun King: airs by Bacilly, Le Camus, La Barre and Lambert, dances by de Visee, motets by Chapentier and Du Mont.
Carmel Edwards and Jane Hunt, sopranos
Din Ghani archlute & baroque guitar
This concert is part of "Jubilate" - a season of events curated by the Herschel Museum of Astronomy celebrating the musical and scientific life of Bath.
Din will give a short pre-concert talk on "Lutes et cetera": Drawing on his experience of making his own instruments, he will explore the evolution and eclipse of the European lute and other stringed instruments and the emergence of the English guittar, which became a favourite in later 18th century Bath.
Tickets £12 including wine.
Available at the door or in advance from 01225 333895 or jhunter@bptrust.org.uk
Bath Symphony Orchestra - Mahler Symphony No. 2
Saturday 11 November 2017
Venue: The Forum, Bath BA1 1UG
Mahler - Symphony No. 2 "Resurrection"
Conductor: Eugene Monteith
Leader: Alison Boden
Soprano: Llio Evans
Mezzo Soprano: Samantha Price
Bath Symphony Orchestra is pleased to announce a very special and exciting concert on Saturday 11th November 2017, 8.00 pm, at The Forum, Bath, to mark the beginning of its 70th anniversary season. The orchestra will be performing Mahler's epic Symphony No. 2 'Resurrection' and will be joined by the highly acclaimed Bristol Choral Society. There will be a pre-concert talk at 7.00 pm
Mahler's second symphony is one of the most expansive symphonies ever written in terms of length, musical forces and harmonic boldness, which will make this concert a spectacular aural and visual experience for all. Mahler demands an orchestra of more than one hundred performers, two off-stage brass and percussion ensembles, an organ, two vocal soloists and a large choir that adds to the musical texture in the final movement. The enormity of the symphony makes it a rarely performed work – the audience is in for a treat!
Written in five movements, and spanning around 90 minutes in length, the symphony was influenced by Mahler's interest in aspects of life and death, redemption, renewal and ultimately resurrection seen through an intense musical journey. However, the work is less religious and more existential in nature than the subtitle might imply.
The musical substance of the symphony heralds Mahler as one of the last great figures of late 19th century Romanticism who was also significant in driving forward the musical journey towards the new sound worlds of the 20th century.
As the orchestra celebrates 70 years of making music to the highest standards, join us at this rare opportunity to hear this vast and amazing symphony – a performance that is set to be an unmissable and memorable highlight of the musical year in Bath.
Tickets are available in advance from:
Tickets
... and will also be available on the door.
French Chanson Evening With Jac and Co
Saturday 11 November 2017
St James Wine Vault, 10 St James Street, BA1 2TW
Come and listen to some popular and some less well-known French songs with Jacques, very gifted accordion player and Corinne, singer with a lovely voice. Jacques and Corinne are coming back after performing worldwide by popular demand. They will perform songs from Edith Piaf, Yves Montand, Charles Trenet, and many others as well as their own compositions - a passionate and enthusiastic medley! The evening is for anyone interested in beautiful French songs. The event is organised by Alliance Française de Bath.
Contact: 07932 377130
Cost: £10 / Time: 8.00pm
A Tribute To The Jersey Boys
Friday 17 November 2017
The Dragonfly Theatre, Radstock
Theatre Box Office: 01761 50 22 22
Tickets
Bath Community Big Band Gig
Wednesday 22 November 2017
Venue: Christ Church, Julian Road, Bath, BA1 2RH
At 7:30pm on Wednesday 22nd November, Bath Community Big Band will visit Christ Church to present an evening of jazz, swing and Latin music in aid of Dorothy House Hospice Care.
There will be an interval bar. Tickets are £6 (concessions £5) and will be available on the door. They can be reserved in advance by emailing matthew.jones@christchurchbath.org
Bath Camerata: The Passing of the Year
Saturday 25 November 2017
Holy Trinity Church, Bradford-on-Avon
Bath Camerata makes a welcome return to Bradford on Avon to perform in the beautiful acoustic of the newly refurbished Holy Trinity Church. They sing a mixed programme of music including Frank Martin's Mass for Double Choir, Jonathan Dove's Passing of the Year, and Ben Parry's lively arrangement of It Don't Mean a Thing.
Bath Cats & Dogs Home's Carol Concert
3 December 2017
Bath Cats & Dogs Home
It's time to sing some carols!
On Sunday 3rd December, the Bath Cats & Dogs Home will be once again be hosting a dog-friendly festive Carol Concert, and we'll be joined by the talented Royal High School Choir!
The festivities will begin at 5.30pm and there is no entry fee (donations are welcome, though!). Friendly dogs are, of course, also welcome.
On the night, there'll be: plenty of mince pies and mulled wine; an opportunity to grab tickets for our Great Winter Raffle; a chance to pick up your pets' presents from our Pet Shop; a variety of festive cards to purchase; and free parking.
We do hope you'll join us on this fun-filled occasion!
Elles Bailey
Saturday 9 December 2017
Caryford Community Hall, Castle Cary BA7 7JJ
Elles Bailey has a talent for crafting and seamlessly weaving rootsy blues, country and soulful rock with a contemporary edge. Country Music magazine named her as
"one to watch" for 2017"
and broadcasting legend Whispering Bob Harris recently hosted Elles for an
"Under the Apple Tree"
session. (www.ellesbailey.com). Tickets £12 advance/£15 on door.
Tickets
St Swithin's Christmas
Tuesday 12 December 2017
St Swithin's Church, Bath
19:30
Full Price £10 | Conc £8 | Student BSU £5
Students from Bath Spa University's Department of Music return to the charming St Swithin's Church for their Christmas concert.
Wind Band's The Sussex Mummers' Christmas Carol. Composer Percy Grainger was known for creating a variety of ensemble settings, arranger Larry Clark emulates Grainger's style to bring this carol alive with musical passion.
Russian Christmas Music by Alfred Reed – a classic in the Wind Band Repertoire.
The Chorus and Orchestra will be performing a Christmas themed medley conducted by Francis Faux – including many well known carols and popular Christmas music.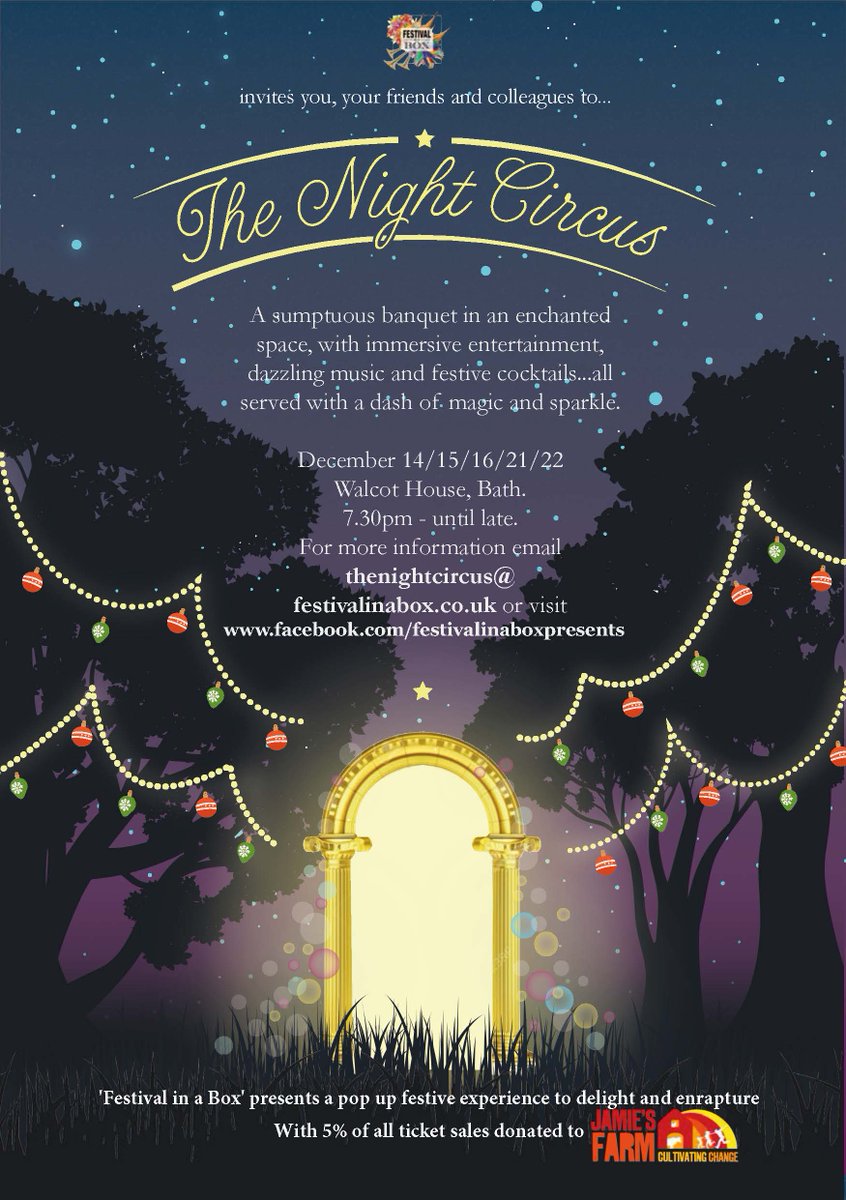 The Night Circus
A sumptuous banquet in an enchanted space, with immersive entertainment, dazzling music and festive cocktails...all served with a dash of magic and sparkle.
December 14/15/16/21/22
Walcot House, Bath.
7.30pm - until late.
For more information email
thenightcircus@festivalinabox.co.uk or visit
www.facebook.com/festivalinabox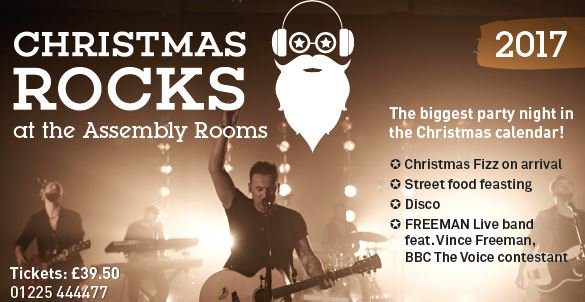 Christmas Rocks - The Best Bath Christmas Party
Thursday 21 December 2017
Assembly Rooms
Looking for a Bath Christmas party with a difference? Then look no further! We are proud to introduce our annual Christmas Rocks event. The best Bath Christmas party, Christmas Rocks is held in the historic Assembly Rooms.
The night is all about getting together with your friends and colleagues to enjoy fantastic live music in a great location with delicious food. Put your glad rags on and dance the night away at Bath's most rocking Christmas party!
Fancy dress is optional and there will be prizes for the best outfit! So don't delay, get your air guitars at the ready and book your tickets today!
Time: 7pm - 1.00am
What's Included :
Christmas sparkle on arrival, Street food feasting
Two live bands, Two discos
Price: £39.50 per person Don't miss out, book your tickets today:
01225 444477
events.bath@searcys.co.uk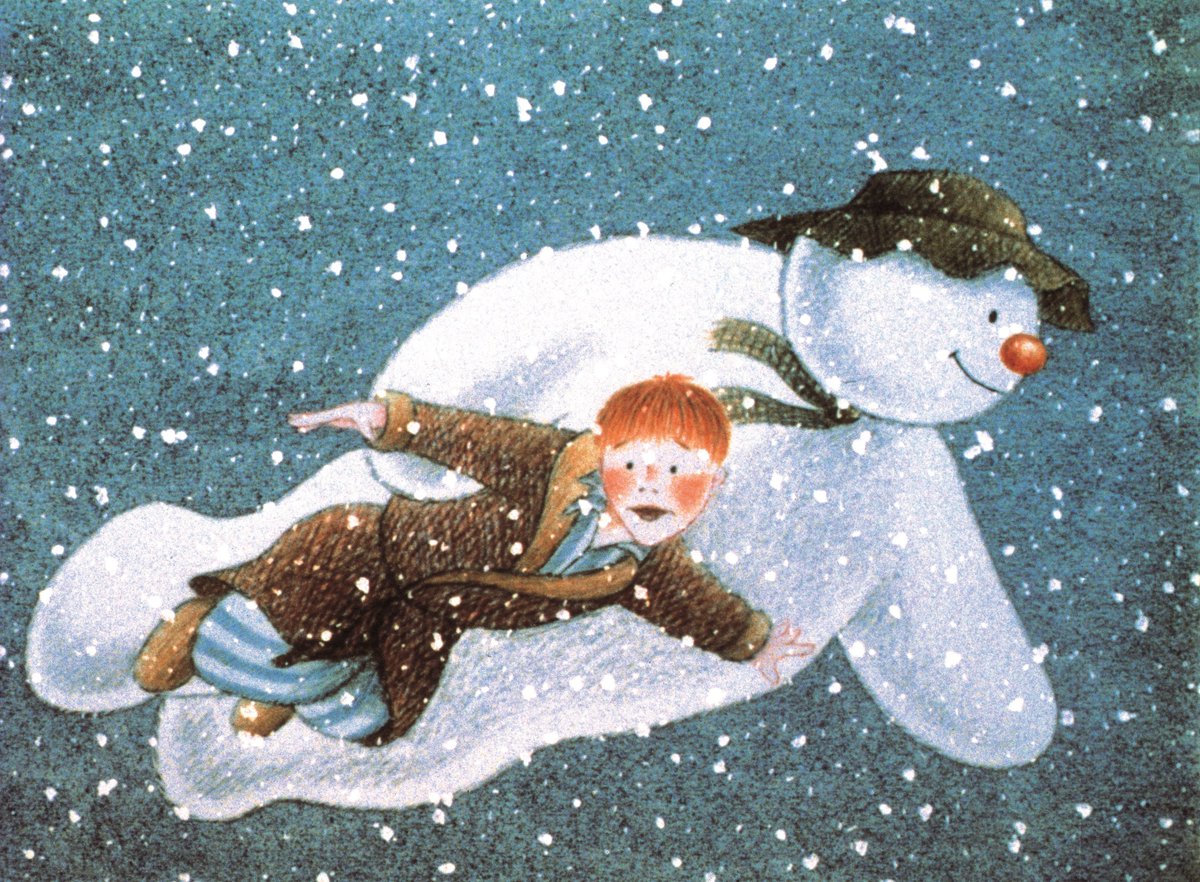 The Snowman with Bath Philharmonia
22 December 2017
Bath Philharmonia presents a double bill of 'The Bear' and 'The Snowman'. After the amazing success of The Snowman, Raymond Briggs and Howard Blake were bought back together by Channel 4 to create another seasonal animation. The Bear is the story of Tilly who befriends a Polar Bear and who helps him get back to the North Pole. The Bear combined with The Snowman will make an unmissable combination of orchestral music and animation, and the perfect way to start the Christmas holidays with your family.
Tickets
Bath Camerata: JS Bach St John Passion
Saturday 3 February 2018
St Mary Redcliffe, Bristol
James Gilchrist (Evangelist) joins award-winning chamber choir Bath Camerata and a starry line up of some of Europe's finest Baroque soloists and players in Bach's dramatic masterpiece, the St John Passion, retelling the story of Jesus' last days. You won't find better musicians to perform this exciting, beautiful and heart-breaking work.
Tickets at
www.bathcamerata.co.uk