Macca - The Concert Celebrating The Music Of Paul McCartney
Friday 10 March 2017
The Forum Bath
Starring West End leading man Emanuele Angeletti ('Let It Be') as Paul McCartney, this is a celebration of the music of a legend.
In the first concert of it's kind to tour the UK and Europe, 'Macca: The Concert', featuring acclaimed West End performers and using state of the art visual media projection throughout, celebrates McCartney's entire solo career from 1970 -2016 including all his best loved hits, theacclaimed 'Wings over the World' 1975-6 Concert Tour and a selection of Beatles favourites. Tickets from
www.bathforum.co.uk
King Edward's School, Gala Concert
Tue 14 March 2017
The Guildhall, Bath
Time: 7pm
Programme to include:
Copland, Fanfare for the Common Man
Ravel, Piano Concerto- 2nd Movement. KES soloist: Will Lambert
Rautavaara, Cantus Arcticus- Concerto for birds and orchestra
O Waly Waly, Benjamin Britten. KES soloist: Gemma Roper
Goodnight Moon, Eric Whitacre. KES soloist: Lottie Phillips
Ravel, Mother Goose Suite
Prokofiev, Montagues and Capulets
In 2016/17 Bath Philharmonia are delighted to work in partnership once again with King Edward's School, enabling the next generation of orchestral players to experience challenging repertoire, professional rehearsals and masterclasses and a Side by Side gala concert. The culmination of our partnership is a performance at The Guildhall, Bath involving KES students playing alongside Bath Philharmonia players, as well as concerti performed by talented soloists from the school.
Tickets available from King Edward's School
boxoffice@kesbath.com
01225 464313
Picnic Unplugged: The Man In Washington + Support
Friday 24 March 2017
Picnic Coffee, 9 Saracen Street, Bath, BA1 5BR
Picnic Coffee presents an evening of live acoustic/indie music from some of the best local acts in Bath. Headline slot by Glasgow's The Man In Washington. Free entry, coffee, beer, spirits and more served all night long.
8pm-11pm / Free Entry
About the acts:
The Man In Washington (GLASGOW)
www.facebook.com/TheManInWashington/
Emma Shoosmith (BRISTOL)
www.emmashoosmith.com/
www.facebook.com/EmmaShoosmithMusic/?fref=ts
Isobel Holly (BATH)
www.isobelholly.com/
www.facebook.com/isobelhollymusic/?fref=ts
Jim Blackmann (BATH)
www.jimblackmann.com/
www.facebook.com/jimblackmannmusic/?fref=ts
About Picnic Unplugged:
Since March 2016, Picnic Unplugged has been presenting an eclectic mix of music all within the cosy setting of a friendly coffee shop in Bath. From Senegalese World Music to Blues Rock, Picnic Unplugged has played host to a wonderful array of acts both local and nationally renowned.
Allegri, Fauré, Dvorak, MacMillan
Saturday 25 March 2017
Bath Abbey
Bath Bach Choir presents four Dramatically Contrasting Sacred Masterpieces. The music comprises Allegri's Miserere,1630s, whose haunting tones are instantly recognisable even to those who know little sacred choral music. The work is famous for the five spine-tingling moments when the solo soprano hits a high C. Fauré's Cantique de Jean Racine, 1865, is one of his best loved works with rich harmonies and the beauty of the flowing accompaniment. Dvorak's Mass in D, 1887, a romantic gem which Slavic edginess meets mellifluous, Brahmsian melodies. James MacMillan's Cantos Sagrados,1990, – sacred songs – are edge-of-the-seat settings of three modern secular poems about political repression in South America, coupled with traditional sacred Latin texts.This piece is challenging and intense.
Dvorak wrote the Mass in D for his friend and patron Josef Hlavka. Brahms wrote: "The fellow has more ideas than any of us." Some of these evolved into the wonderful, folkloric choruses you may be hearing for the first time. MacMillan a favourite of Bath Bach Choir, having performed several of his works including the south-west premiere of his St John Passion. This piece is challenging and intense, both to sing and to listen to, but MacMillan's musical language is immediate, personal and open. Tickets from
www.bathbachchoir.org.uk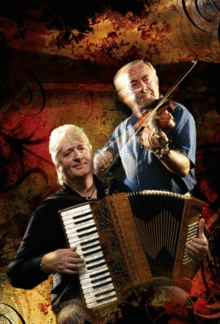 Aly Bain and Phil Cunningham
Monday 3 April 2017
Widcombe Social Club, Widcombe Hill, Bath BA2 6AA
Surely the finest musical interlude in the history of the Bath Comedy Festival - the duo whose musical genius and pinnacle of achievement in the folk tradition has brought them international acclaim. Shetlander ALY BAIN is the best known and most significant fiddle player in the Celtic tradition, arguably the finest of all time. Accordion player PHIL CUNNINGHAM's mastery of the instrument has led to him working with the likes of James Taylor and Rosanne Cash. As a bonus, these scintillating instrumentalists are also renowned for their off-the-cuff wit and irreverent storytelling.
"They are simply the best traditional musicians you are ever likely to hear"
The Glasgow Herald.
Tickets £16 800 411 8881
Tickets
Bath Camerata - Good Friday Concert
Friday 14 April 2017
Venue: Wells Cathedral, Wells, BA5 2UE
Free Admission, retiring collection for Wells Cathedral Music
For many - performers and audience alike - Bath Camerata's annual Good Friday concert in Wells Cathedral is the highlight of their musical calendar. And for many reasons. Firstly the building is magnificent – who cannot be impressed by this golden beauty sat in the heart of the Somerset Levels, with its impressive, intricate West End carvings and 14th Century bracing at the Crossing. Secondly the acoustic is clear and supportive, making singing in it an absolute joy. But also because this concert is part of the Cathedral's devotional weekend for Easter. It is free to attend, with a retiring collection given to the Cathedral to support its musical activities. Bath Camerata is very proud to have raised over £40k of donations for the Cathedral Music Fund over the three decades of its Good Friday concerts.
For this year's Good Friday concert Bath Camerata, conducted by Benjamin Goodson, will be singing Herbert Howells intensely personal Requiem, a work perfect for this most poignant day in the Christian calendar. Alongside this will be Schönberg's virtuosic masterpiece Friede auf Erden (Peace on Earth), Henry Purcell's funeral sentence 'Hear my Prayer O Lord' and four beautiful motets by Maurice Duruflé. Plus there will be music by Brahms and Nystedt.
www.bathcamerata.co.uk
Nicola Benedetti with Bath Philharmonia
Friday 21 April 2017
The Forum, Bath
Shostakovitch Violin Concerto No.1
Prokofiev, Romeo and Juliet (excerpts)
Violin: Nicola Benedetti
Conductor: Jason Thornton
Nicola Benedetti is one of the most sought after violinists of her generation. Her ability to captivate audiences with her innate musicianship and dynamic presence, coupled with her wide appeal as a high profile advocate of classical music, has made her one of the most influential classical artists of today. Nicola will bring Shostakovitch's dark, introspective First Violin Concerto to life with a performance that promises energy, torment and breath-taking passion.
Prokofiev's Romeo and Juliet was premiered in 1938 and is possibly one of the most dramatic and colourful of all his ballets. The Montagues and Capulets has gained notoriety both for its sheer drama and as the theme tune to the television programme, The Apprentice.
King Edward's School, Bath proudly sponsors this concert.
bathphil.co.uk
Afriquoi Gig
Friday 28 April 2017
Where: Caryford Community Hall, Castle Cary BA7 7JJ
Afriquoi fuse traditional African sounds with electronic music drawing on house, soca, hiphop, soul and jungle.
Licensed bar. Off-road parking.
Doors 19.30
Tickets £7 from www.eventbrite.co.uk
More info from
www.actiontrackperformance.co.uk
The Bath Pump Room Trio In Concert
Saturday 29 April 2017
The Space, Keynsham
See and hear the Pump Room Trio play a wide range of music in a concert setting. Full details on
facebook
Kathryn Roberts & Sean Lakeman at Chapel Arts Bath
Saturday 29 April 2017
Chapel Arts Bath BA1 1QR
2016 BBC Radio 2 Folk Award Winners 'Best Duo' Kathryn Roberts and Sean Lakeman head out on tour next month for 12 weeks of shows in support of their new 8 track EP entitled SAVED FOR A RAINY DAY.
"Over the last few years there have been several cover songs we have performed live and never got round to recording. Along with a couple of our own originals that didn't 'fit' with our previous releases. These have often been requested on CD and, subsequently, 'Saved For A Rainy Day' has become a limited edition of rarities."
Now firmly established as one of the folk-scene's busiest and most respected duos, the husband and wife team will hit the road from early March onwards to preview new material that will feature on their next full album.
www.kathrynrobertsandseanlakeman.com
Photo Credit Matt Austin
Show 8pm Tickets £13 adv/£15 door Tel 01225 461700
(above) 360 of the Cafe!
A family run vegetarian cafe, in the heart of Bath. Offering tasty, home-made food and great service in a great setting.
Address: Chapel Arts Centre, Lower Borough Walls, Bath BA1 1QR
map
•
chapelarts.org